Christina
Are you coming to the city of Hilversum? Then don't doubt that you will have a satisfying experience. Why else would you choose to call a place like this if you are not just looking to have some fantastic entertainment?
Well, having fun in Hilversum becomes a lot easier with the help of our amazing Christina. She is the kind of girl that we are so proud to represent here at 
Hilversum Escort
. It's girls like her and 
her mate Marry
 that makes it so pleased for us to create memorable experiences for all of our clients. Also, it's down to ladies like her that makes it so simple for you to find the special escort of your fantasies to have a fantastic evening!
What is hiring an escort like, then?
With Christina, you could sit around in a hotel room and have a good company. She's an amusing individual, with a real zest for having a good company. However, when it comes to making sure you can have the kind of passionate experience that you need, want and deserve? Few are better suited to making sure you can have a special time than Christina.
It's her pleasing personality and piercing green eyes that would captivate you. We have been told on more than one occasion that, to our clients, Christina is the kind of girl they would all dream about meeting and taking back to their hotel room. Well, instead of merely wanting that to happen, the magnetic and exciting Christina will make it much easier for you to do so – she's the kind of girl who likes to have joy, and who knows exactly how to turn every meeting with a client into something just right. So, what are you waiting for? Give her a call today!

MAKE HILVERSUM EVEN BETTER WITH THE CREATIVE CHRISTINA.
Some guys like to meet up with an escort alongside their partner. Sometimes, spicing things up in the bedroom alone can be hard work. Instead of just settling for the same old, introduce your partner to the beautiful Christina. From a threesome with your partner to a threesome with a friend, she is more than up for it – double the people, double the fun, right? On top of that, she is happy to be in total control and command of your evening together. If you want to be with a sexually satisfying escort who is always in control and makes sure you know it, give Christina a request to visit you. She's the kind of girl who will make sure you can sit back and enjoy the ride!
If you are serious about making your time in Hilversum super fun, give her a call.
She is happy to meet here – just let her know what would suit you most. Just as she is in the bedroom, Christina is as flexible as they come – so you set the rules, and she'll follow them!
Age

23

Gender

Female

Sexual Orientation

Heterosexual

Drinking

Occasionaly

Smoking

Occasionaly

Available for

Men, Women, Couples

Height

169 cm / 5'7''

Weight

52 kg / 115 lbs

Eye Color

Brown

Hair Color

Brown

Hair Lenght

Medium

Pubic Hair

Shaved Completely

Breast Type

Natural

Cup Size

C

Dress Size

S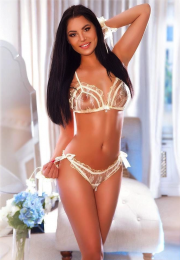 Clarice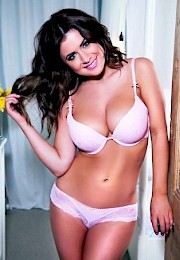 Mary